Back to archive
Next week, a festival will take place at Peterhof to celebrate the closing of its fountains. This annual event is always a hit amongst tourists and tickets are limited. This is why we have written this post – to give you plenty of time to plan your trip!
---
When? Friday 15th and Saturday 16th September, starting at 21:00 on both days
Where? Peterhof Palace Lower Gardens, Main Cascade (maps: https://yandex.ru/maps/-/CBU6vQrPsC) (Details about how to get there can be found below)
Website: (Russian) http://peterhofmuseum.ru/events/133
Tickets: http://tickets.peterhofmuseum.ru/ru (must be bought in advance)
---
The name of the festival – A Journey Beyond The Three Seas (Хождение за три моря) – refers to the travel notes of the famous Russian explorer Afanasy Nikitin, a merchant from Tver who, in the 1470s, became one of the first Europeans to travel to India. But the name also refers to another meaning of the phrase 'three seas' – the elements of water, air and the cosmos. For centuries, these elements have, one by one, subdued the efforts of outstanding pioneers.
The show will pay tribute to various outstanding pioneers who have opened up new parts of the world to humankind, and will do so in a unique and untraditional way, with special emphasis placed on visual and musical forms. The show will also feature architectural 3D mapping and other digital animation. Dancers, soloists and other musicians will perform, accompanied by special effects, pyrotechnics, and lasers.
The official poster for the event
You must buy your tickets in advance. Tickets cost 1000 roubles and can be bought here. The ticket allows you to enter the lower park from 6pm, so we recommend getting there nice and early, to give you time to look around before finding a space with a good view of the main stage.
Want a taster of the event? Watch the event's official video here.
If you do not manage to make it to the show, fear not – you still have time to bid farewell to the fountains! The fountains close on the 15th of October, one month after its closing ceremony. The Grand Cascade (where the fountains are located) is a must-see feature of St Petersburg. Built at the same time as the palace (between 1715 and 1724), it features grottos, numerous bronze-gilded statues (the most famous being that of Neptune), and jets that spurt out over the fountains. We recommend arriving at Peterhof early, because then at 11:00 you'll get to watch the fountains being turned on to the sound of music (that is, to the 'Hymn to Saint Petersburg' by Glier).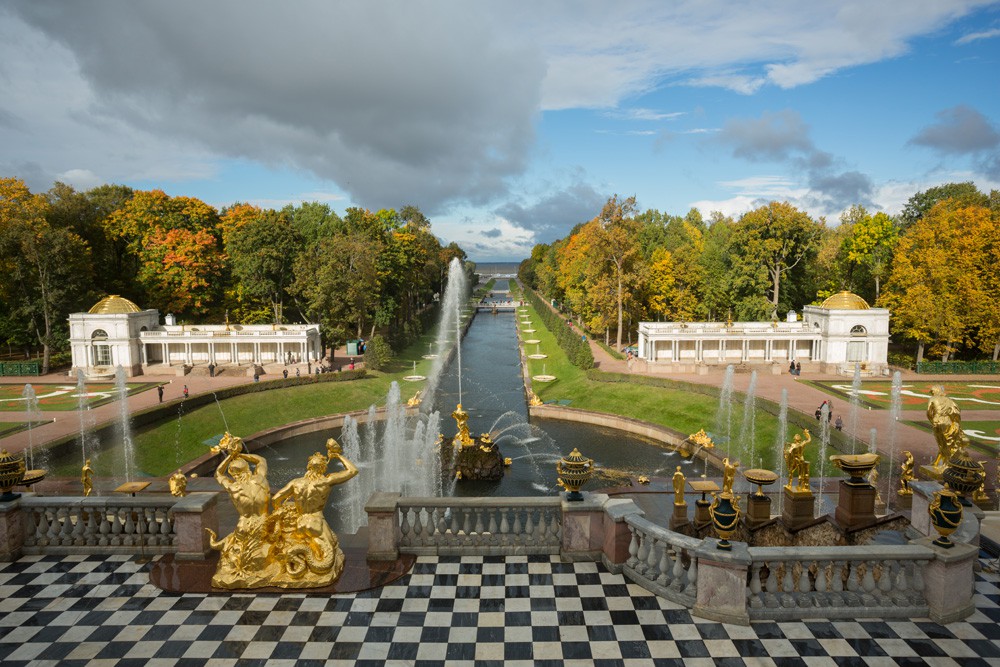 The Grand Cascade of Peterhof
From Avtovo metro station: Marshrutkas (minibuses) K-224, K-300, K-424, or K-424А; Buses: №200 or №210.

From Leninsky Prospekt metro station: Marshrutkas (Minibuses) K-103 or K-420

From Prospekt Veteranov metro station: Marshrutkas (Minibuses) K-343 or K-639Б
---