20.10.2017 15:43
917
Saint Petersburg Metro - FAQs
What is public transportation in Saint Petersburg like?
Public transportation in Saint Petersburg is well developed and easy to use. It includes the metro (метро or метрополитен), buses (автобус), trams (трамвай), trolleys (троллейбус), route taxis (маршрутка), and electric local trains (электричка) . There are also trains (поезд) to other cities. In this post, we'll discuss important things to know about the metro system and how to use it. Other methods of transportation will be covered in a future post.
What is the metro like?
Saint Petersburg's metro has 5 lines, which are numbered and colored. Trains run frequently (every 2-3 minutes during the day) and are rarely delayed. Metro maps are straightfoward and easy to read.
One important thing to note that might be different from other metro systems you're familiar with is that transfer stations (станции пересадок) have different names on different lines. Sometimes the names are very similar, such as the station closest to Derzhavin Institute, which is called Технологический институт 1 on the red line (Line 1) and Технологический институт 2 the blue line (Line 2). Other times the names are completely different. Садовая on the blue line (Line 1), Спасская on the orange line (Line 4), and Сенная Площадь on the purple line (5), for example, are the SAME STATION. You won't need to pay again or walk very far to transfer; the station just has a different name for each line.
Although not usually as elaborate as Moscow's famous metro stations, many stations of Saint Petersburg's metro also have impressive artwork, mosaics, chandelliers or other decorations. Some stations especially worth visiting include Автово (pictured in top photo), Спортивная, Международная, Пишкинская/Звенигородская, and Кировски завод.
Because it is built under canals, Saint Petersburg's metro is the world's deepest metro system, and has the world's longest escalators, up to 138m (453ft) long and 69m (226ft) high.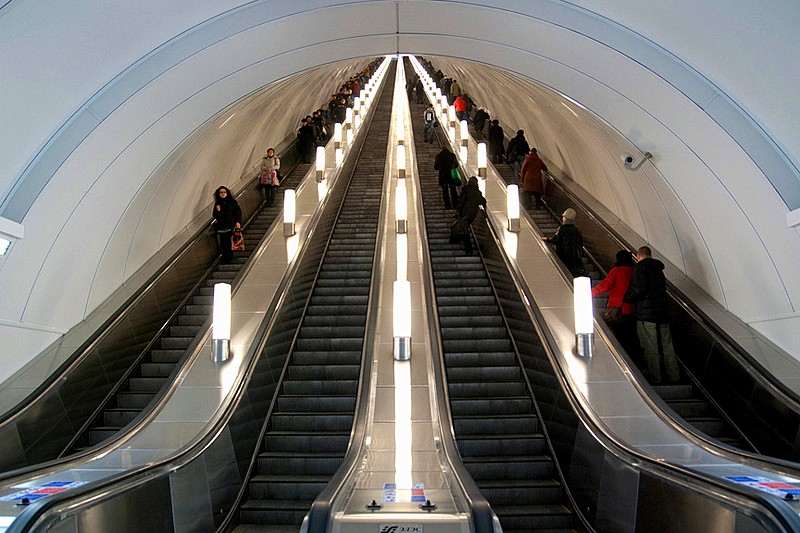 What are metro rules should I know about?
You only need to pay or swipe your card to enter the metro system, not to exit, since the price of each trip doesn't depend on how far or how long you travel.
Eating (except ice cream) and drinking (except alcohol) on the metro ARE allowed.
Smoking, drinking alcohol, or holding/eating ice cream are NOT allowed.
You are not allowed to enter the metro system while intoxicated.
You are allowed to travel with two pieces of luggage for free; additional luggage will be charged.
Non-flash photography is permited. Flash photography and video recording require a permit.
In order to keep the metro safe for everyone, security personnel regularly stop passengers at random to check their bags. If one stops you and asks them to come with you, don't worry or resist - it's simply a routine check and won't take very long.
How late does the metro run?
All public transportation runs from around 6am to midnight. For the metro, the exact times depends on each station, but the first train from each station typically departs between 5:30 and 6am and the last train departs between midnight and 12:30am.
It is especially important to pay attention to when the metro closes if you're on the other side of the Neva River from where you plan to spend the night. Once the drawbridges open for the night, you will have to wait until they close again to be able to cross the Neva.
How much does the metro cost?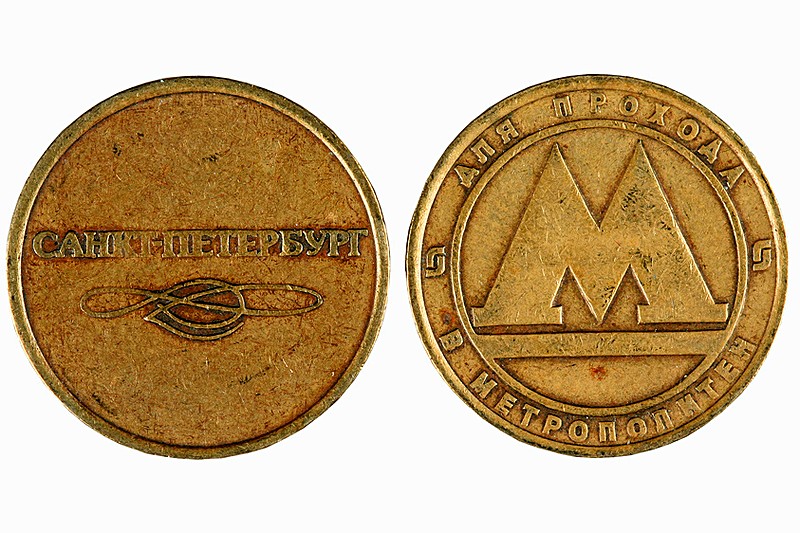 There is no difference in price for the distance or time you travel.
If you don't have a card or forgot yours at home, you need to buy a token (жетон, pictured) for a single trip on the metro. It costs 45 rubles. You can buy a token before every trip at the ticket window (касса).
The Standard Electronic Ticket or Подорожник (most Derzhavin students choose this option) gives you a reduced price and saves you time waiting in line to purchase individual tickets. With this card, the first ten trips per calendar month cost 36 rubles each. Trips 11-20 in the same calendar month cost 35 rubles each, trips 21-30 cost 34 rubles each, 31-40 cost 33 rubles each, and from the 41st trip of the month, each trip is 32. You don't need to worry about the math - the amount will be deducted automatically from your card and you can check your balance any time with a machine in the metro.
Are there any monthly passes?
Monthly transport passes are also available. A pass for unlimited trams, trolleybuses, buses and Metro, for example, costs 2900 rubles a month. A pass for 40 metro trips within a period of 30 days is 1300 rubles.
See the metro's website
for other options and more details.
Students of Derzhavin Institute do NOT get the student price for these passes, and most of our students will not travel enough for the passes to be worth the money, but you can decide for yourself what makes the most sense for your situation.
What are the advantages of a transportation card and how do I get one?
Saint Petersburg's transportation card is called Подорожник and you can use it on the metro, buses, trams, trolley buses, local trains and route taxis.
The card itself costs 60 rubles, and you can put as much money as you want on it. Depending on how much you use public transportation, we recommend putting 500-1000 on the card to start with. If you put more than you can use, you will not get it back, so be careful not to put too much money on the card. When you leave Saint Petersburg, you can give the card back and you will be refunded the 60 rubles for the card - but NOT the remaining balance.
If you join us on the orientation walk on your first day of class at Derzhavin Institute, we will help you get a card. If you prefer to go by yourself, simply go to the ticket counter (касса) and ask "Podorozhnik, please, and put [500 rubles] on it" - "Подорожник, пожалуйста, и положите [500 рублей] на него". To add money to your card, give your card and money to the ticket seller and say, "Положите, пожалуйста, [500 рублей]" or simply "[500 рублей], пожалуйста".