18.12.2017 15:27
782
If you're a prospective student wondering what options to expect, or a current student looking for some more lunchtime inspiration, read on to learn more about where you can eat around Derzhavin Institute.
One of the closest, fastest, and cheapest places to eat lunch around the institute, Tarelka Stolovaya is a good place to start, although many students will tell you it gets old quickly. Столовая means dining room or cafeteria, and it's one of the most important Russian words to know when you are in Saint Petersburg! This type of cheap self-service restaurant are common throughout the city. At Tarelka, as well as most other cafeterias, there is a selection of pre-made salads, soups, main dishes, pastries and drinks to choose from. You take the salad, drinks and pastries yourself, while the main dishes and soups you have to ask for (Мне, пожалуйста,__________ or Можно, пожалуйста, ________?). You pay first, and then take your tray of food to your table. The food is relatively healthy and there are vegetarian options. Prices vary, but you can eat a complete meal for 125-400 rubles.
2. Other Stolovayas
You can find at least four other stolovayas within a ten minute walk from the school. Prices and quality are similar, but each has their own specialties, so you can try them all to find which one you like the best.
3. Market Place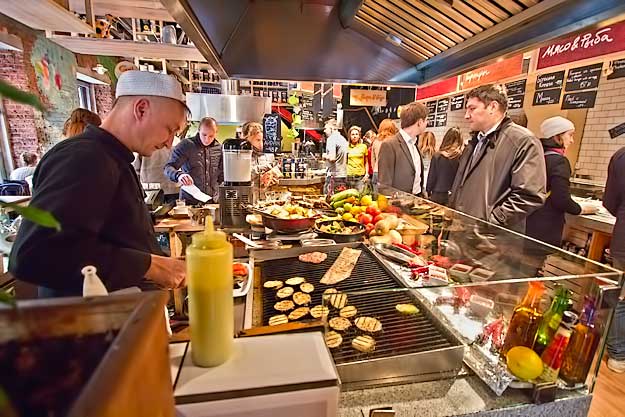 Market Place is a self-service restaurant that is definitely a step up from a regular столовая. The prices are higher, but so is the quality. At lunch time, there is a set menu (бизнес ланч) - salad, drink, soup and main dish - for 229 rubles. The set meal is different every day, but there is only one option per day. If you want something else, you can choose from a wide variety of dishes from all over the world, made in front of you with fresh ingredients. A main dish usually costs between 200 and 300 rubles, while a soup is usually between 100 and 200.
4. Ода Кафе
This Georgian sit-down restaurant on Izmaylovskiy Prospekt between the Cathedral and the river is also worth a try. Main dishes are around 300-500 rubles.
Originally specializing in sushi (the name means "two chopticks"), this restaurant now offers food from all over the world. From 11-4pm, the lunch special costs 190 for one dish and a drink, 300 for two dishes and a drink, 370 for three dishes and a drink or 450 for four dishes and a drink. Lunch "dishes" (блюда) to choose from include soups, salads, pasta, sushi, and desserts. A much wider selection of dishes are available throughout the day and for a slightly higher price. The restaurant is located across from Technology Institute metro station.
Just north of the Fontanka river from the school on Vosneskiy Prospekt is a decent Mexican restaurarant, with main dishes usually around 400-500 rubles. They have a large selection of tequila and other alcoholic drinks and in the evening there is sometimes salsa dancing and live music.
Teremok, a Russian fast-food restaurant chain specializing in both sweet (сладкие) and savory (сытные) Russian pancakes (блины), has small stand on Troitskiy Prospekt. This is a cheap, tasty option for those who want to pick up something quick to eat on their way home.
8. Bakery number 35- Булочная Но 35
On Troitskiy Prospekt between the school and Technology Institute metro station, this bakery offers a nice selection of fresh pastries, pies, cakes and coffee for when you want a quick snack or a dessert. You can eat in (здесь) or take out (с собой).
9. American Fast Food
Near the Institute you can find McDonalds and KFC in the department store across from the cathedral, and Burger King across from the metro station. Prices for meals are about 250-400 rubles.