09.03.2018 18:52
549
Yuri Gagarin—a Russian Cosmonaut and Hero of the Soviet Union. Born on 9 March 1934, Gagarin would go on to become hero, not only in the Soviet Union, but internationally, as the first man in space and the first to orbit the earth.
Going on to reach legendary and ground braking achievements, Gagarin came from a simple background in a small Soviet town. During the Nazi invasion, Gagarin`s town and home would be occupied and his family separated. After the war, Yuri received an education from the Saratov Industrial Technical School where he was trained in mechanics. It was here that Gagarin first learned to fly.
As traditional in Soviet Russia, after school, Gagarin entered the army where he was sent to First Chkalov Air Force Pilot School in Orenburg to be trained as an air force pilot. Showing great talent and skill, Gagarin quickly rose to the ranking of Senior Lieutenant in the Soviet Air Force and was chosen in 1960 to partake in a highly elite Soviet space program. Under the program, Gagarin lived a vigorous training schedule where his physical and psychological abilities were tested. Rising to the challenges, Gagarin was chosen to man Vostok 1.
12 April 1961 will be regarded in history as the day the first man was sent in space. At the moment of launch preserved recordings document the emotion of the first man to enter space:
Korolev: "Preliminary stage….intermediate…main…lift off! We wish you a good flight. Everything is all right."
Gagarin: Поехали! (let's go!)
This simple word «поехали» is now used to refer to the beginning of the Space Age, the advancement of modern technology and exploration, and the heating up of the space race between the USSR and The United States.
Entering back into the atmosphere after orbit, Gagarin recalls the tune he whistled, «Родина слышат, Родина знает» (The Motherland hears, the Motherland knows) which includes the beginning lyrics "The Motherland hears, the Motherland knows / Where her son flies in the sky." An all too appropriate line for such a patriotic and legendary accomplishment that would have influence for decades to come.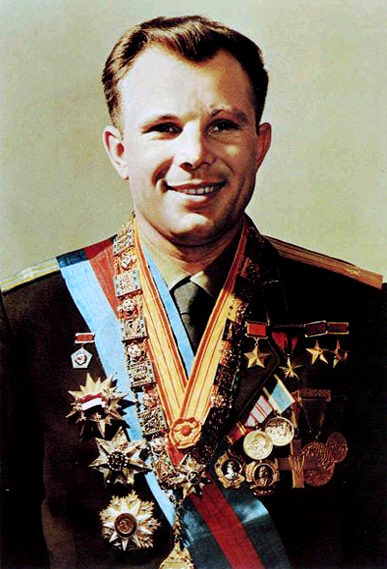 As both a national and international hero, 12 April is celebrated in Russia as Cosmonautics day in remembrance of Gagarin`s space flight and internationally as International Day of Human Space Flight.
Coming from a rich and predominate history of space exploration, Russia continues to play a significant role in international space partnerships and advancements.
Learn some Russian!
Космонавт: Russian cosmonaut, (astronaut)
Космос: space
Спутник: satillite
Государственная корпорация по космической деятельности «Роскосмос»: Govermental body of the Russian Federation responsible for the national space program.