05.04.2018 13:27
520
Saint Petersburg is a city of culture, history, architecture with delicious food and drink. During a long day of exploring the city, or if you find yourself simply needing to escape from the cold, there is not much better than sitting down in an quaint café and enjoying good conversation with a great cup of coffee.
If you are traveling through Saint Petersburg delicious cafes are on just about every street corner. To be sure that you make the most out of your caffeine selection, here is a list of some of the best cafes for ambiance, comfort and of course, quality!
Coffee 22: Located right off Griboyedov Canal towards Palace Square, Coffee 22 offers a very relaxed and laid back environment. Their extensive menu consists of breakfast all day as well as a delicious selection of sweets and cakes to pair with a great cup of coffee or espresso. Tucked away, Coffee 22 is very cozy with cushions, chairs and hidden corners. The mood is set by old records and soft jazz often playing quietly in the background.
Average check: Around 450 rubles including food purchase.
Казансая 22
City Coffee: With a warm, bright atmosphere, city coffee offers more than just a restful place to sit and drink a cup of coffee. With one of the most extensive flavor menus in Saint Petersburg, every cup of coffee can be tailor-made to suit your particular flavor preference. Perfecting their coffee roast has been the accomplishment of city coffee. On 7 April, City Coffee will be hosting a "day of coffee." With a few locations throughout the city, a great cup of coffee (or beans for home) is often only a few minutes away.
Average check: Around 250 rubles plus or minus depending on additional food purchase.
Красноармейская 7-я, 10
Садовая, 54
Владимирский проспект, 17а
Zoom Café: If you find yourself walking down Gorokhovaya ulitsa, this café is sure to catch your eye. Covered in greenery year round, the outside of Zoom café will beckon you in. This beautifully charming café is filled with plants and flowers, creating a garden-like oasis in the middle of the city. With a full selection of books, games and activities to accompany their great menu, you are certain to want to sit and relax awhile.
Гороховая, 22
Average check: Around 350 rubles including additional food purchase.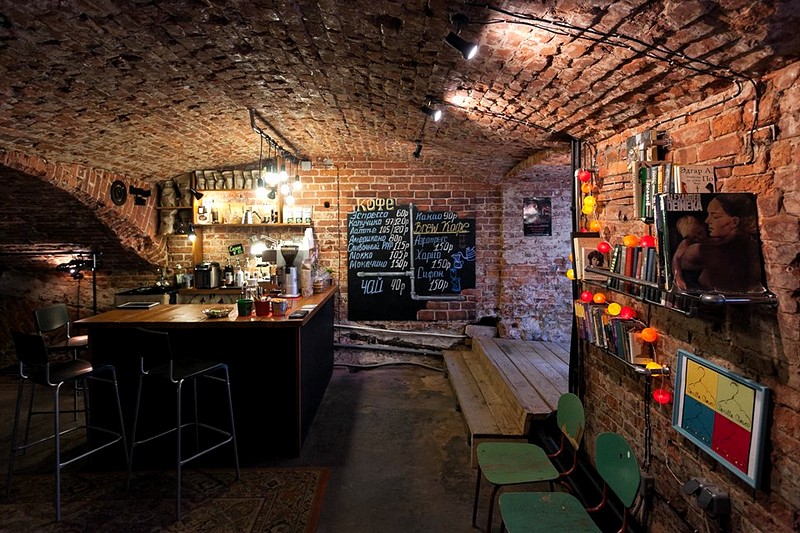 Espresso Bike: As their name suggests, Espresso Bike specializes in espresso drinks and offers some of the best quality espresso in the city. In addition, their homemade and delicious cold brew is a perfect option for a long summer day of exploration. The underground cave-like atmosphere transports you out of the city and into an underground espresso bar.
Казанская, 7
Average check: Around 250 rubles plus or minus depending on additional food purchase.
Coffee Room: As a chain that runs through Saint Petersburg, Coffee Room has a few locations throughout the city and supplies coffee to other cafes. The ambiance is fresh, light and cozy with great service to accompany their fun food and coffee flavors. If you're feeling slightly adventurous you can opt out of your usual coffee go-to and try one of their over-the-top ice cream shakes. (Additional cafes supported by Coffee Room: "Mickey and Monkeys" and "I'm Thankful For Today.")
Average check: Around 500 rubles plus or minus including additional food purchase.
Гороховая, 27
Жуковского, 63
Mickey and Monkeys: Гороховая, 27
I'm Thankful For Today: Гороховая, 24
Цифербург: While most cafes are run-of-the-mill, the anti-café has risen in many modern cities. Saint Petersburg is no exception. Цифербург is one of these anti-cafes. With an unlimited supply of coffee, espresso, tea and snacks, you only must pay for the time you spend there. Цифербург is located in a prime spot on Fontanka. Its large warehouse-meets-ballroom atmosphere makes this café certainly a unique place in the city to meet with friends, sit and relax, to do some work. With a piano inside and chic decorations, there is always somebody playing the piano or taking photos.
Average check: Veries based on lenght of time
Набережная реки фонтанки, 20