06.04.2018 17:36
492
Easter, the most important and celebrated holiday for the Russian Orthodox Church, is observed based on the Julian calendar and often falls on a different Sunday than the Catholic or Protestant Easter. This year, the Russian Orthodox Easter will be celebrated 8 April. As in many countries, the Easter celebrations in Russia are full of significance, traditions, family and delicious Easter treats.
Within the Russian Orthodox faith, and throughout Russia, Easter is the most important religious celebration of the year. Every year, the main Easter service takes place in Moscow at the Cathedral of Christ the Savior. Beginning at midnight, the church bells announce the resurrection of Jesus Christ and mass begins. During mass, the church is filled with lit candles and observers, who follow the priest in a precession around the Church that last throughout the night. At dawn, the priest walks around the cross and calls for the forgiveness of sins and greets the Church with the official Easter Greeting: "Христос воскрес" and the congregation responds "Воистину воскрес." This call and response by the Priest to the congregation is the welcoming in of the Easter celebration and the congregation follows by greeting one another with this Easter Greeting.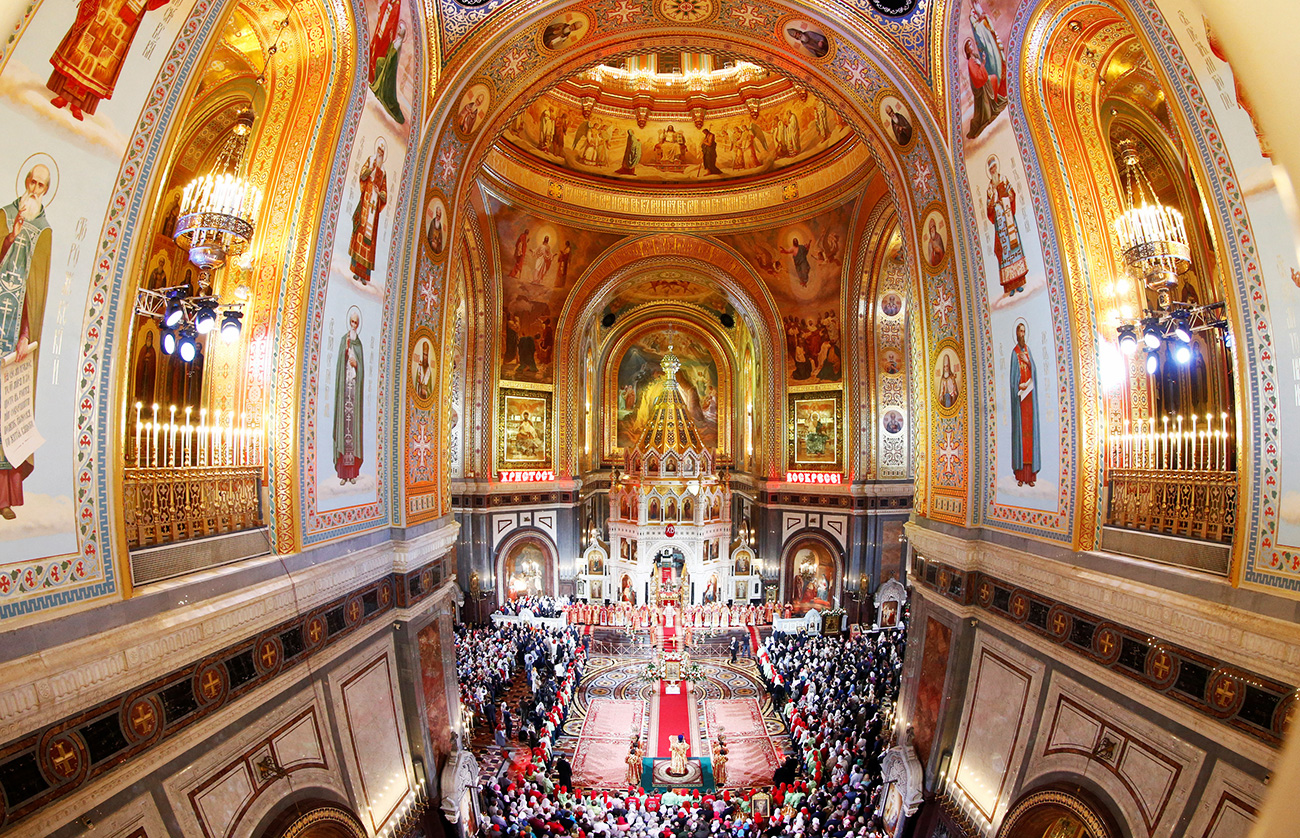 Traditionally, Easter Day begins with a long family breakfast. The holiday table is set to overflowing with food and special Easter treats, primarily paskha and kulich, special Easter bread. Throughout the day family and friends will greet one another not simply by saying "happy Easter" but repeating the traditional religious Easter Greeting to one another. In addition to the religious Easter Greeting, sharing food is a long-time Russian tradition of friendship and blessing, and neighbors will exchange food and mini Easter breads with one another.
Other Russian Easter traditions follow suit with those found around the world with one main difference. Easter is reserved as a revered religious holiday. Unlike other countries where children go on Easter egg hunts or play Easter games, the Orthodox Easter is strictly reserved as a religious celebration. Families paint beautiful Easter eggs and use them to decorate their homes and tables for the holiday. Traditional Russian folklore and superstitions are associated with painted Easter eggs. For example, there is a superstition that an Easter egg hidden in the foundation of the house will bring prosperity and happiness.
Although Easter is the most important of the Orthodox holidays, there are additional associations with the holiday. Easter is thought of as a spiritual cleanse for the soul, bringing peace, joy, and hope. Easter celebrations and traditions have persisted in Russia throughout its long history, solidifying the traditions associated with the holiday.
In Saint Petersburg, visitors can see a unique and imperial side of Russian traditions at the Fabergé Museum. The Fabergé eggs were specialty imperial Easter eggs created for the Russian Royal Family and given as Easter gifts among them. Each egg uniquely and intricately created with the exquisite craftsmanship of Carl Fabergé. The largest collection of these eggs is housed at the Fabergé Museum on the River Fontanka.
Lets learn some Russian:
Пасха: Easter
Светлое Воскресное Христово: Easter Sunday
Кулич: Kulich: Easter Bread
Паcха: A sweet Easter cake from tvorog
Пасхальные яйца: Easter egg
"Христос воскрес" "Воистину воскрес": Traditional Easter greeting "Christ has risen" "He has risen indeed"