11.07.2019 13:42
29
Although commonly celebrated worldwide on July 9, the World Chocolate Day is observed on July 11 in Russia and special events, contests and festivals are held in most big cities for this occasion. Russia is famous for its notoriously fine chocolate and if you want to celebrate the sweetest day of the year buying some, keep reading to find out how to choose the right kind for you and where to find it in Saint Petersburg!
As you may or may not know, Russian chocolate is extremely popular and largely appreciated not only by locals but also by the most sweet-toothed foreigners who visit the country. Whether you want to keep it all to yourself or bring it back as a present to the people at home, Russian chocolate can satisfy everyone's taste.
Listed below are some of the most notorious brands of Russian Chocolate to help you choose which one is the best one for you and your loved ones!

1. Кондитерская фабрика имениН. К. Крупской
Founded in Saint Petersburg in 1938, this brand is now the leader of the confectionery market in the North-West region. You can easily recognize their shops walking the streets of Saint Petersburg thanks to their famous logo – the griffin of the Bank Bridge.
In addition to great taste and a wide choice of flavors, they offer beautiful packaging, such as the Ленинградские (Leningradskiye), which wrapping is decorated with the city's most popular views.
Directions: https://goo.gl/maps/QzME6Exj8wbwSj996

2. Вдохновение
This is a famous Russian brand founded in 1976. Despite its relatively recent institution the company has quickly gained the favor of millions of consumers both in Russia and around the world. It is well known for its high quality and special taste but, above all, for its particular original format – ten chocolate sticks, each wrapped in foil, within a 100-gram package.
Their "Классический" (Classic flavor) chocolate has been produced according to the original recipe since 1976!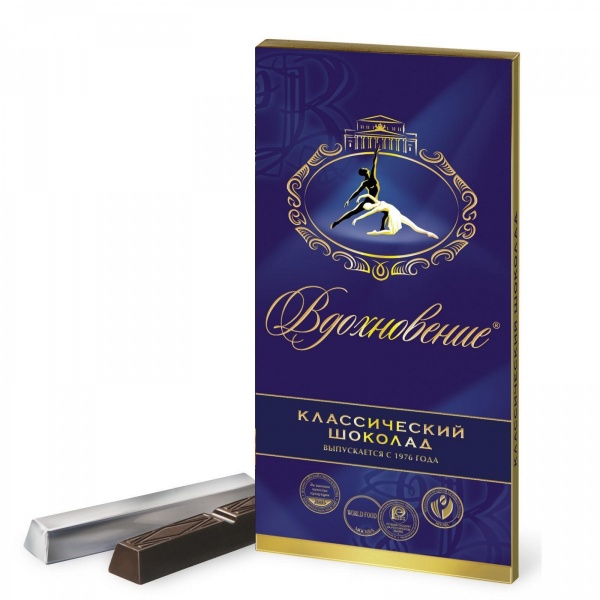 3. Бабаевский
Since its foundation over 200 years ago, in 1804, in a small confectionery shop in Moscow, this company has gained the favor of millions of consumer, both in Russia and around the world. It is famous for its high-quality dark chocolate made of cocoa butter and selected cocoa beans. So, for all of you lovers of bitter chocolate this is the right brand for you!