Back to archive
Forget your 300 rouble lattes or mochas – a time café can offer you much more for your money! Read on to find what exactly a 'time café' is, where the idea came from, and where to find such places in Saint Petersburg!
Forget your 300 rouble lattes or mochas – a time café can offer you much more for your money!
---
The time café (Russian: тайм-кафе) – also known as an 'anticafe' (антикафе) or 'free space' (свободное пространство) – is becoming increasingly more and more popular not only in Russia, but also in cities across Europe. The time café differs from your standard coffee shop in that it charges you for time rather than for food and drink. For only two or three roubles per minute, the customer can indulge in an unlimited amount of food (usually biscuits and other sweet delights) and drink, whilst relaxing in an often creatively-decorated environment. Many places also offer various forms of entertainment, such as board games, libraries, and even ball pits!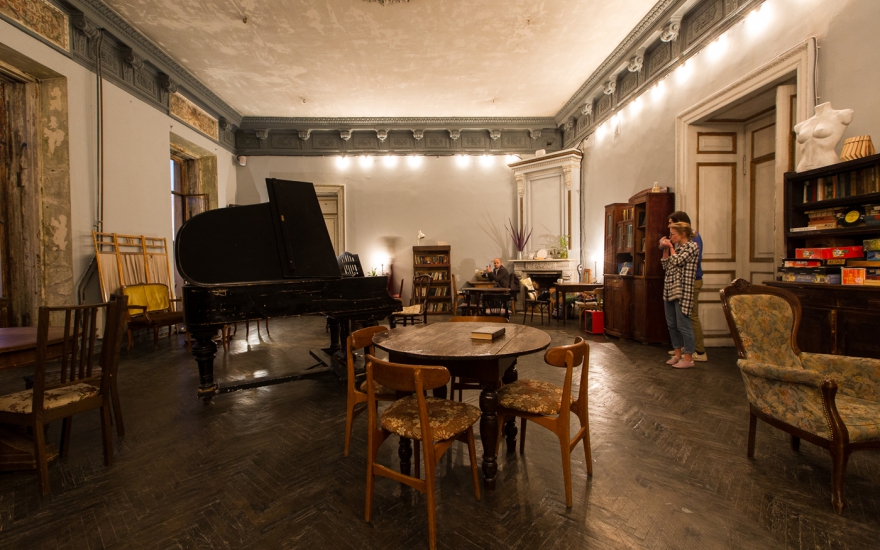 The décor of Time Cafes can vary from place to place. The St Petersburg Time Cafe "Цифербург", for instance, has opted for a vintage interior.
The idea of the time café can be traced back to Ivan Mitin, who opened the world's first free space – called 'Tree House' – in 2011 in Moscow. Since then, Mitin has expanded his business: his café-chain – called Ziferblat, which comes from the Russian and German words for 'clock face', – can now be found in several countries, from Russia all the way to Great Britain.
It's not just the pricing strategy that makes the time café stand out from the crowd: the atmosphere and ethos of these 'free spaces' often differ greatly from the environments found in normal cafes. In many time cafés, visitors can bring their own food, they can hold events there, and, in a few places, they can even play musical instruments. There is a sense of community in these spaces; you can go there to work, play board games, attend speaking clubs, or simply meet new people in an informal and non-intimidating environment.
Of course, it takes time and effort to build these welcoming environments, and some cafés have been more successful than others in this. The people who run O'len! on Vasilyevsky Island (Saint-Petersburg), for instance, have really mastered how to run a successful café: they make a special effort to remember recurring customers' names, they hold interesting and inclusive events almost every night, and they interact with the customers in the same way that they would with their peers. They create a place that people want to come back to.
"O'len! Anti-café", on Vasilevsky Island. There you can find a mafia room, a ball pit, a music stage, and more!
It's no wonder that the time café trend is catching on in other countries. It would seem that people, more and more often, aren't just choosing the cafés for its food and drink: they want to go somewhere where they can spend quality time with others, meet new people, and experience new and unusual environments. The cynic may say that such an idea brings with it the possibility of people exploiting the system (for instance, by taking more than their share of food and drink and leaving within the first ten minutes). But perhaps this is what makes this new type of café so interesting and revolutionary: people are so enchanted by the sociable environment that they feel compelled to stay, rather than take advantage of the system. The success of the time café goes against our usual expectations regarding human nature. One can only imagine how many more of these cafés will appear in the next five years.
Five Saint-Petersburg time cafés to try out
Still haven't managed to try out a time café? Don't worry! We've put together a list of some of our favourite cafés in Saint Petersburg.
1. Ziferburg/«Цифербург» 
Address: Naberezhnaya reki fontanki, 20 (inside a loft complex, on the 3rd floor)
Nearest metro: Gostinii Dvor, Mayakovskaya, Chernyshevskaya
Maps: https://yandex.ru/maps/-/CBUGYTU-1D

 

Price: 3 roubles per minute (180/hour)
​2. Ziferblaft/«Циферблафт»
Address: Nevsky Prospekt, 81
Nearest Metro: Mayakovskaya, Ploshad Vosstaniya
Price: (First hour) 3 roubles per minute (180/hour); (after first hour) 2 roubles per minute (120/hour); (stay for whole day) 540 roubles.
​3. ​Work and Play
Address: Ul. Sadovaya, dom 12, 4th floor (attic)
Nearest Metro: Gostinii Dvor
Price: 2 roubles per minute (120/hour)
4. ​O'len! «О'лень!» 
Address: Srednii Prospekt V.O., Dom 36/40, (in the trade centre 'Ostrov', 3rd floor – go up the escalators to the third floor and turn right, then up some more stairs)
Nearest metro: Vasileostrovskaya
Maps: https://yandex.ru/maps/-/CBUG48auTD
Price: 2 roubles per minute (120/hour)
5. Lemonade/«Лимонад-оранжерея»
Address: Ul. Potemkinskaya, dom 2
Nearest metro: Chernyshevskaya
Price: 2.5 roubles per minute (150/hour)