Back to archive
Besides being one of the biggest and most awaited music festivals of the summer, the VK Festival is also a perfect opportunity to explore Russian pop culture and watch the most famous bloggers, influencers, stars and entertainers in the country performing live. Don't miss it on July 20 and 21 in St. Petersburg!
In its five years of existence, the VK Festival, organized by VKontakte and Radio Recordd, has become one of the main events of the summer not only in St. Petersburg, but also across the country. His program includes activities for all current trends: from music to blogging and videomaking, to video games and technology. In 2018, the festival counted over 90,000 guests and its broadcast was watched by almost 2 million people.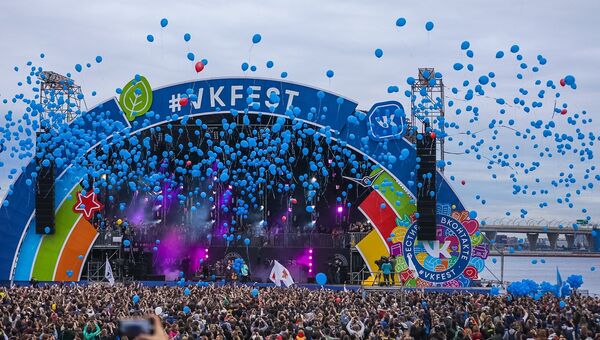 This year's VK Fest is said to be the biggest one yet: for its 5thanniversary the festival will open the doors of the Park of the 300thAnniversary of St. Petersburg to dozens of thousands of visitors from all over Russia.
The 91-hectare park is located in the northwestern part of the city, on the shore of the Gulf of Finland, from which you'll be able to admire the panoramic view to the gulf seascape and maybe even distinguish the dome of the Naval Cathedral of Kronstadt.
With 35 hectares of entertainment and pleasures, 17 themed areas and over 300 interactive stations, it should come as no surprise that the promoters have arranged six different stages! Visitors will find the "Bloggers" stage, for the young influencers and creators with millions of followers on their social media platforms, the "Humor" stage set by the popular Russian television channel TNT, and four music stages, color-coded based on the style of music: blue – mainstream, white – rap and alternative, green – indie, Radio Record stage – dance and electronic music. The headliners for the Radio Record stage will be the legends of electronic music Pendulum (July 20) and Yellow Claw (July 21). In addition, some of this year's musical acts will be Little Big, Egor Creed, Yolka Feduk and many others.
Moreover, inside the VK Fest smoking is prohibited and you won't find alcoholic beverages either, as the festival's core values are health care, education and charity.
So, what are you waiting for? Secure yourself a ticket and start dancing, it's going to be so much fun!